Updated September 2012
-----------------------------------------
Updated May 24:
http://www.calgary.ca/CSPS/Parks/Pages/ ... -park.aspx
--------------------------------------------------------------------
Updated April 2012 with news of an open house to discuss plans for a park that may include the historic Enoch Sales house. See bottom post on page 2.
This thread began with discussion of both the Enoch Sales house and "Rock Central", but has focussed on Enoch Sales since the Rock Central demo in 2006.-------------------------------------------------------------------
Update late September 2006:Rock Central has been demolished, but is commemorated in art and film, including Lock Fulton's "Breakfast at Rock Central", premiering at the Calgary International Film Festival - see the posts at the bottom. The fate of the Enoch Sales house remains uncertain, but there are efforts to relocate the house to the City-owned land immediately to the west, at the corner of Macleod and 12th Avenue SE. Presently a parking lot above the LRT tunnel. (plans confirmed as of June 2007)
==========================================
A land use application (the first step to redevelopment) has been made for a large site in Victoria Park that includes two buildings on Calgary's inventory of potential historic sites, the 'A' listed Enoch Sales residence and the 'B' listed Moyes Duplex, more recently known as Rock Central, in the 300 block of 12th Avenue SE. Torode residential is the owner (the developer of nearby Arriva). There have been discussions about possibly relocating Enoch Sales to another nearby property.
See below for CHI's response to the application.
Victoria Park was once a thriving residential community, but only a handful of original houses are left. These are the most significant houses remaining in Victoria Park. Both are profiled in Harry Sanders'
Historic Walks of Calgary
. The houses are very close to another threatened historic streetscape here:
http://www.calgaryheritage.org/CHIForum/vi ... .php?t=212
More information and photos will be added soon.
Enoch Sales house - Sherlock77 photo
http://www.flickr.com/photos/sherlock77
Rock Central is best known as an incubator of Calgary's music scene over the past decade.
Rock Central - Entheos Fog photo
http://www.flickr.com/photos/entheos_fog
Photos of the famous Rock Central Stampede Breakfasts (7th, 9th and 10th editions) can be found in sets on pansapien's flickr site:
http://www.flickr.com/photos/pansapien/sets/
Last summer artist Sam Hester did a show of portraits of the denizens of Rock Central - THE BROTHERS: PORTRAITS OF THE ROCK CENTRAL FAMILY BAND. FFWD article:
http://www.ffwdweekly.com/Issues/2005/0616/art.htm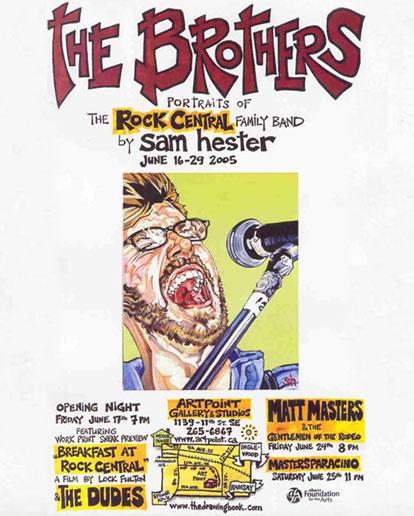 Rock Central is well known in the music scene as the home of "The Dudes" – possibly the Next Big Thing out of Calgary. The Dudes rarely fail to mention their Rock Central roots:
http://www.thedudes.ca/
http://www.ffwdweekly.com/Issues/2006/0720/cover.htm
Another Rock Central grad is Matt Masters (Sam Hester's brother), the 'The Alberta Reporter'. He celebrated the Alberta centennial year giving 100 performances across Alberta - his latest album is 'Centennial Swell'.
http://www.mattmasters.com/
.
Paul Spence and Andy Sparacino of the Canadian cult classic 'Fubar'
http://www.fubar-themovie.com
have Rock Central roots.
Artist honours her band of 'brothers' Portraits pay tribute to Rock Central
Heath McCoy, with files from Jennifer Partridge, Calgary Herald June 25, 2005
Ask Calgary portrait artist Sam Hester, and she'll tell you she comes from a family of at least 18 brothers.
Only one of the 18 is an actual blood brother, mind you. Oh, and one is a woman.
Hester's latest art showcase, on display until June 29 at Artpoint Gallery in Calgary's Ramsay neighbourhood, is a celebration of this unusual brotherhood, forged in the fires of rock 'n' roll.
Confusing? Yes. But understand her inspiration and it's also quite touching.
Hester's brother is Matt Masters, a country rambler and singer of Alberta songs who's turned heads from Vancouver to Toronto with his backup band The Gentlemen of the Rodeo. For the past decade, Masters, 29, has been a key player in the Rock Central Stampede Breakfast, something of an underground institution during Stampede week.
Rock Central, once a nondescript house in the 300-block of of 12th Ave. S.E., became something of a music scene breeding ground when members of Calgary bands The Dudes and The A-Team began living there, along with a revolving door of local musicians and artists, including Masters.
Much of the group had grown up together in the upper-class Calgary district of Scarboro and the 102-year-old, three-floor, red-brick building served as a sort of party-house/jam-pad.
Hester, 31, grew to love the Rock Central crew.
"These guys are like a big, extended group of brothers for me," she says. All the music they've made and the Rock Central breakfast, it's been really inspiring for me."
Her art showcase, The Brothers: Portraits of the Rock Central Family Band, includes 18 paintings of these "brothers," including not only Masters and members of the Rock Central bands, but also pictures of the various close friends of the group.
The exhibit is not so much a celebration of Rock Central as of the friendships that spawned the place.
"I'm more a fan of their brotherhood," Hester says. "It's worth celebrating the fact that these guys lived in this unit. . . .
Everybody's friendship should have an art (tribute), sort of freezing in time where everybody's at."
Bob Quaschnick, 29, who plays guitar with The Dudes, is among those immortalized by Hester.
"It's flattering," he says of the exhibit. "The whole art exhibit is like a scrapbook of the last 10 years, of the last 10 summers. So walking around and looking at (the portraits) is very interesting."
Unlike Quaschnick, Masters hasn't yet seen the exhibit.
"I'm going to see it tonight for the first time," he says over the phone Friday afternoon. "But I was talking to a fellow named Dan Vacon yesterday -- a singer for The Dudes, he's actually the longest Rock Central resident of them all and features prominently in the show -- and he was saying he essentially went on a trip down memory lane through these portraits. So it sounds pretty cool -- a real archive of these 18 lives."
Alas, the Rock Centralites are coming to a crossroads, Hester says.
Those still living in the house have received an eviction notice for the end of August. It's expected Rock Central will be torn down as part of redevelopment plans for Victoria Park and the Stampede.
(Newsposter's note: The house is not part of Stampede redevelopment, but a redevelopment across the street from the Stampede by Torode Realty).
This year's Rock Central breakfast, tentatively planned for July 16, will be the last of its kind. At least at the original address.
"It was something we always knew was going to happen," Quaschnick says. "I guess it's nice that it lasted this long.
"When we first thought of Rock Central being torn down, maybe nine years ago, we vowed that we chain ourselves to the house if they tried to tear it down. And the only way that we would get unchained would be if we could play a rock show while it was getting torn down," says the Calgary-based finishing carpenter. "But I don't think that's going to happen."
Masters has an equally strong opinion about the upcoming destruction of Rock Central's locale.
"Tearing down a 100-year-old building in Calgary that has served as a location for a rather unique and nationally acclaimed arts festival is, in my opinion, a travesty," he says. "I appreciate that business is business and that the city has to grow, but I just don't get it."
Meanwhile, the crew members are beginning to go their separate ways.
The Dudes, who have gained a national foothold, are going on tour.
Masters will also continue to hit the highway, guitar in hand.
Drummer Dan McKinnon has started a family. Paul Spence, who starred in the movie FUBAR (as the destructive Deaner) is firmly entrenched as an actor.
Another member of the crew is a Toronto lawyer and still another now resides in Vienna. Andy Sparacino, who still lives in the house, also continues to pursue music and acting. He too appeared in FUBAR.
"The house was a really magical place where these guys were able to live and do their thing," says Hester. "But (my project) is more about their bond; their ideas and creativity that could thrive anywhere."