Demystifying Heritage Designation Part 2: Hear from the owners!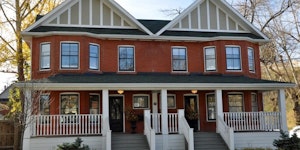 Join us for our second heritage designation workshop, featuring home and building owners who have had their properties legally protected (designated) and heritage experts familiar with the procedure. Four speakers will share their designation stories and cover such topics as generating and selling unused density, advantages for heritage in the planning and development process, and taking advantage of City and Provincial grant programs. Learn about historical designation from people who have experienced it.
Sign up now via Eventbrite - the first session back in March was a full house!
https://demystifyingdesignation2.eventbrite.ca
Do you own a "century home" (or a mid-century modern gem), or deal with historic buildings in your work? Or are you just interested in how to protect Calgary's heritage? Have you wondered how buildings get on the City's heritage inventory or get "designated" as heritage sites, and what's the difference? Have you heard it said that designating a building is overly restrictive and reduces market value? On the other hand have you heard that it is flexible with grants available, and that heritage properties are valued in the market? Well, come and hear for yourself the facts from our panel of heritage experts:
Erin van Wijk - Heritage Planner
Mark Erikson - the Withrow Residence in Parkdale Blvd.
Kris Nordal - the Findlay Apartments in the Beltline
Michel Berdnikoff - the Somerville Duplex in Cliff Bungalow-Mission
Saturday November 14, 2015
Doors Open 9:30 am, event 10 am to Noon
Cliff Bungalow-Mission Community Centre
2201 Cliff St. SW, Calgary, AB
All proceeds from this event go to the Calgary Heritage Initiative, an all-volunteer non-profit society dedicated to protecting and celebrating Calgary's heritage; CHI is the steward of the award-winning Century Homes Calgary is a project. Thanks to our guests who are donating their time, and our venue sponsor, the Cliff Bungalow-Mission Community Association! There will be coffee and light refreshments.
Admission: $10 per person (kids free), which includes membership in the Calgary Heritage Initiative (optional). CHI members in good standing attend for $5. Pay online via Eventbrite or register via Eventbrite and pay at the door.
https://demystifyingdesignation2.eventbrite.ca
FAQs
Where can I contact the organizer with any questions?
Use the contact form:
http://www.calgaryheritage.org/ContactFormNew.php
Can I pay at the door?
Yes, cash only. But please register in advance using the pay-at-the door option.
How do I get the CHI membership?
We will have a table at the event.
I don't know if I am a current CHI member. How can I find out?
We'll have up to date membership information at the event. Or you can contact us at the link above.
Where is the parking? Is the facility wheelchair accessible?
The parking is on the street, but there is no parking lot. Unfortunately the site is not wheelchair accessible.
Can I get a tax receipt?
CHI is not a federally registered charity, so we can't issue tax receipts. We are a provincially-registered non-profit society.