Unable to attend National Trust Conference 2015? You can still catch the inspiring Keynote Address and Reception. Tickets only $15.00!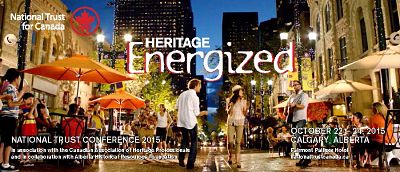 Path to the Future: Heritage, Sustainability and Society
Keynote Speaker: Vincent L. Michael, PhD
Thursday, October 22, 2015 (7:30 p.m. – 10:30 p.m.)
Jack Singer Concert Hall, Arts Commons
(205 - 8th Avenue, Calgary, Alberta)
Don't miss this internationally recognized expert who will share his vision for how heritage is essential to our future. Meet community revitalization and heritage professionals and volunteers from across Canada.
Dr. Michael is a prominent leader in the international heritage conservation field. For the last three years he was Executive Director of the Global Heritage Fund in Palo Alto, California, which works to conserve heritage sites as economic assets for developing regions of the world. His keynote address – Path to the Future: Heritage, Sustainability and Society - will explore how stewardship of our heritage resources is essential for our global future. Reception to follow. Cash Bar.
Tickets: $15.00
To purchase: Visit the National Trust 2015 Conference page
https://www.nationaltrustcanada.ca/get- ... onferences
and scroll down to the Keynote option. Tickets will also be sold at the door.
Ticket pick-up: Tickets will be available for pick-up at the event in the Jack Singer Concert Hall lobby on Thursday, October 22, 6:30pm – 7:30pm.